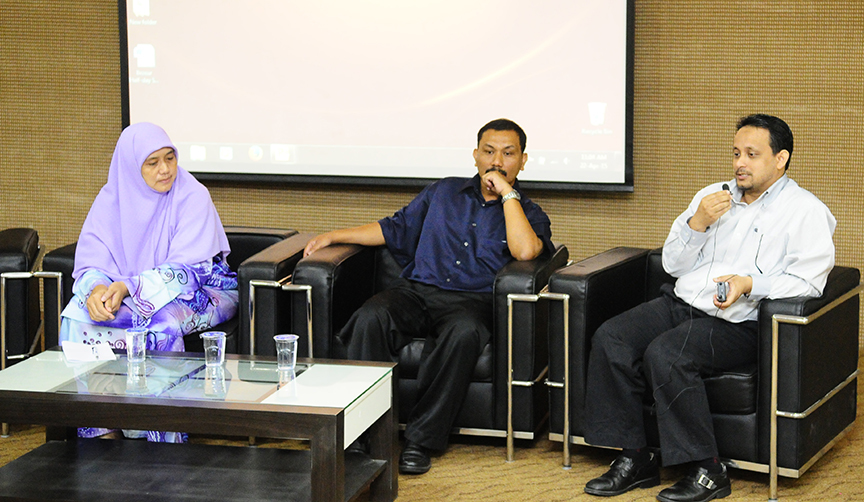 NIBONG TEBAL, 23 April 2015 – Bahagian Kualiti dan Akreditasi, Pejabat Pengarah, Kampus Kejuruteraan, Universiti Sains Malaysia (USM) telah menganjurkan seminar separuh hari bertajuk "Preparing Exam Question - Mapping to Bloom's Taxonomy" disini semalam.
Menurut Penyelaras Bahagian Kualiti dan Akreditasi, Kampus Kejuruteraan Prof. Madya Sr. Dr. Mohd Sanusi S. Ahamad, seminar diadakan selaras dengan aktiviti dimana semua pusat pengajian sedang giat menjalankan proses persiapan dan penapisan soalan-soalan peperiksaan semester II 2014/2015.
Division of Quality and Accreditation of USM engineering campus has organized an accreditation briefing program on 12th March 2014 located at Lecture Hall 1.
Engineering Accreditation Council (EAC) Visit 2014


EAC visit was held on 19 until 20 March 2014 which involves three programmes which are Civil Engineering, Chemical Engineering and Mechatronic Engineering. 9 panels from EAC, 2 representatives from Engineering Accreditation Department (EAD) and 4 observers from Pakistan were involved in this accreditation visit.




This evaluation was covered all aspects in terms of formulation and assessment of Programme Objectives and Outcomes with stakeholders (staff, students, alumni, industry) input, professional development of staff (OBE and assessment workshops), staff clear on the appropriate depth of knowledge and able to demonstrate the achievement, staff implement Continual Quality Improvement (CQI) at all levels, conduct curriculum benchmarking, students involvement during implementation of programme.

EAC was focused on Outcome-Based Engineering Education (OBE) Programme, Programme CQI and ensuring the expected engineering education level is maintained.
EMBRACING THE OUTCOME BASED EDUCATION
(20 November 2013 at Dewan Seminar, Bangunan Pentadbiran USM Kampus Kejuruteraan)
1st Session - OBE beyond a SAR Report: Creating the culture for teaching excellence